WUNU athletes are the best!
8-08-2022, 13:37 News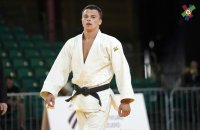 For two days, on August 6 and 7, 2022, the European Judo Cup among adults was held in Riga.

The national team of Ukraine was represented by 20 athletes. Mykhailo Svidrak, a student of the West Ukrainian National University, successfully performed at these competitions, winning a bronze award in the weight category up to 81 kg.

Once again, we make sure that our athletes are the best. We wish you further success and new victories!