Mykola Dyvak
Doctor of Technical Sciences, Professor
Honoured Worker of Science and Technology of Ukraine
Contact information:
Теl.: +38 0352 524737
Email: mdy@wunu.edu.ua
Room: 6202
Address: 8 Chekhova st., 46000, Ternopil, Ukraine
Faculty of Computer Information Technologies

 The staff of the Faculty of Computer Information Technologies of WUNU trains specialists in the following educational programs:
 -   Economic Cybernetics
 -   Business Informatics
 -   System Analysis
 -   Information Systems and Technologies
 -   Cyber Security
 -   Computer Science
 -   Project Management
 -   Software Engineering
 -   Computer Engineering
 -   Automation and Computer-Integrated Technologies
 -   Information Technologies in Economics
Graduates of the Faculty, depending on the chosen specialties, are employed in popular positions: head of an IT company, consulting firm; administrator of computer systems and databases; information systems analyst; information systems and software engineer; economist-analyst; informatics advisor; informatization project manager; designer of information security systems; information security specialist; cyber security project analyst; information security systems manager; computer network administrator; cyber security systems analyst.
Graduates can also develop, implement, adapt or operate information systems and technologies, working in the following positions: application programmer; project manager, specialist in management information systems; database administrator; system analyst and project manager at enterprises; specialist in analysis of control systems and software; leading specialist of analytical and planning departments.
 The faculty implements international cooperation with foreign partners: Belarusian State University of Informatics and Radio Electronics, Minsk, Belarus; Brest State Technical University, Belarus; Sofia Technical University, Bulgaria; University of Calabria, Italy; Xinhua University, the Republic of China; Maine State University, USA; University of New Hampshire, USA; South Carolina State University,  USA; University of Siegen, Germany; Wuhan University of Technology, Lane Hubei, China; University of Applied Sciences, Berlin, Germany; University of Applied Sciences, Dortmund, Germany; Kaunas University of Technology, Lithuania, Kaunas; Technical University of Silesia, Poland; Warsaw Polytechnic University, Poland; University of Timisoara, Romania; University of Bielsko-Biala, Poland; University of Technology in Lodz, Poland, University of South Bohemia in České Budějovice, Czech Republic; School of Informatics and Modern Technologies (EPITA), France (at the state of cooperation agreement signing); Laurent University, France (at the of cooperation agreement signing); Deggendorf Institute of Technology, Germany.
There are the Winter schools in the field of information technologies for the entrants at the Faculty. Studying in Winter school allows you to gain skills in the field of IT, working in a team on the development of an IT project. Later, while studying at the University, the skills acquired in the Winter school are converted into the development of a startup or software and hardware implementation, which is performed at the request of customers. The participants of IT schools that present works in the competition of IT projects also receive grants for free travel and participation in the international conference "IEEE International Conference on Advanced Computer Information Technologies, ACIT" (https://acit.tneu.edu.ua)». In addition, each participant gets an international certificate, which certifies the approbation of results and international experience. Recruitment for Winter IT schools is conducted by the Faculty of Computer Information Technology annually and starts in October-November.
There is a practice of semester study at partner universities in the Czech Republic, Poland and Germany at the Faculty. There is a military department at the University, where you can also get a military specialty. Each student of the Faculty has the opportunity to take free training in the programs of study courses: Programming languages ​​(Python, C ++, C #), Cyber security, Computer network administration and more. After studying, in case of passing the exam, a certificate is issued, which will supplement the CV successfully.
The Faculty conducts two-stage All-Ukrainian Olympiads in WUNU in computer science, which allow you to enjoy benefits when enrolling (you can get up to 20 points to one of the certificates of external evaluation (according to the rules of admission approved by the Ministry of Education and Science of Ukraine)).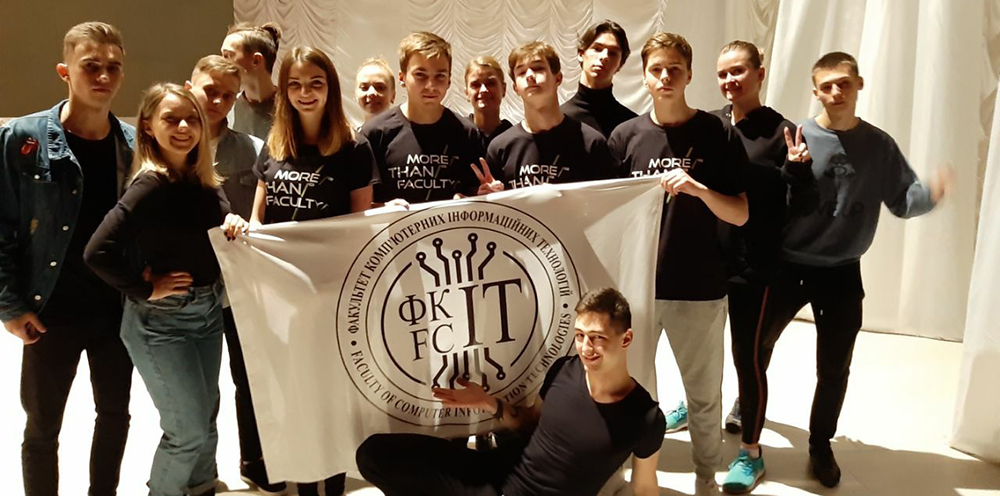 If you have any questions аbout:
admission +3800983841282, Ihor Yakymenko
moving into a dormitory +380352524643, Dean's Office
organization of the educational process +380352524643, Dean's Office
submission of certificates, applications, etc. +380352524643, Dean's Office
cooperation with scientists +380352475050*16129
Find us on social networks:
Our contact information:
Address:
 8 Chekhova street
, (WUNU Building 6, room 6501), Ternopil, 46003
Phone
:
+38(0352) 52-46-43
Fax: +38(0352) 52-45-43
Email: dean@wunu.edu.ua