Rector's Address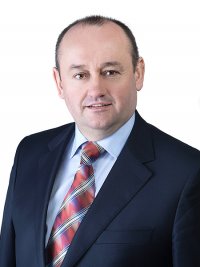 West Ukrainian National University staff currently meets the demands of our time. By introducing new areas of study, developing a positive image of Ukrainian higher education abroad, and creating an atmosphere which attracts talented young people from all over Ukraine, we have managed to succeed in overcoming challenges of economic transformation and have captured the essence of the transfer of knowledge, adhering to educational standards, and inspiring young people to think both critically and creatively.
Currently, the University moves proudly and confidently towards the intended goal. The commitment of scientists and researchers who have laid the foundation of professional knowledge has inspired the young generation to conquer new educational peaks.
Students are the young and beautiful face of our country. These boys and girls, with their youthful energy, hard work and daily zeal will build the future of Ukraine.
We are proud of our graduates, for here they were trained to research the fundamentals of economics, informational technologies, branches of law, and to envision prospects for future success.
Keeping both past and current achievements in mind, we will work to build a foundation for the future.
Andriy Krysovatyy,
Rector
West Ukrainian National University