Oleg Lucyshyn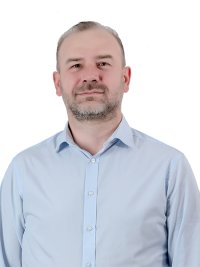 Position: acting director of the educational and scientific institute "Ternopil business school"
Scientific degree: candidate of economic sciences
Academic title: Associate professor

Contacts:
Address: str. Lvivska, 11, building #1
Office: 1402
Phone: +38 (067) 340 3370
Email: o.lutsyshyn@wunu.edu.ua
Ternopil Business School

  Ternopil Business School is a modern European business school at West Ukrainian National University. It is an international platform that aims to unite education, business and government to develop a favourable ecosystem for small and medium enterprises in Ukraine. Today, the Ukrainian-Estonian Master's Programme for Youth is implemented within the business school. Non-academic short-term training programmes for entrepreneurs and specialists, as well as short- and medium-term courses for youth and adolescents are run by the Ternopil Business School Entrepreneurship Center.

 Ternopil Business School was founded in 2014 as a partnership between Ternopil National Economic University (now - West Ukrainian National University) and the Estonian Business School. Estonian Business School is one of the leading European business schools, which tops the world rankings of business schools and rankings of private universities. Thanks to this partnership, Ternopil Business School implements a joint Ukrainian-Estonian Master's programme in Business Innovation Management.

 We want to see changes in business, the economy, education, the country and, ultimately, in our way of thinking. We believe that they are possible, and we are working towards this goal, ensuring the development and integration of drivers of change - representatives of the new generation of businessmen, innovators, and content creators.

  Learn from the best
Classes at the Business School are taught only by top practicioners, including successful entrepreneurs, independent consultants and visiting professors from leading business schools.
European Education at home
Through international cooperation, we have the opportunity to implement the programme developed at the Estonian Business School, taking into account current market conditions and based on world educational standards.
Learn from practical experience
Only immersion in real work situations using the Learning-by-Doing methodology and the most relevant practice-oriented content allows one to master all the necessary information.
Combine studies and work
We understand that the participants of the programme live in different cities and do not wish to stop their professional activity, so we intensify classroom training and balance it by adding independent work.
Transcending the classroom
Modern education is not only classroom work, but also distance learning, field modules, tours to the best enterprises of Ukraine, recreation and training in the Carpathians and Estonia.
Networking
People are a key value of business school, we are proud of our students, alumni, teachers, partners, friends - our team. We have common goals and interests and work together in one direction.

 The Ukrainian-Estonian Master's Programme in Business Innovation Management is a modern European programme designed for proactive young people who see their future path in starting their own business or building a career in innovation management, marketing and other areas of business management.
Term of study is 1 year and 4 months.
Full-time training with the intensive curriculum, as well as the use of independent work and distance learning allow participants to continue their professional life or entrepreneurial activities without sacrificing quality of learning outcomes.
Leading Ukrainian and Estonian experts and practitioners who have personal experience in implementing business projects, running a business or managing investment act as the teachers of the Business School.
Training in the programme goes far beyond the classroom and the classical understanding of education - it includes business tours in Ukraine, outreach modules in the Carpathians, tours, lunches with teachers and much more.
The language of the programme is Ukrainian, but some courses are taught in English.
Upon successful completion of the programme, participants are awarded a Master's degree (of Ukrainian state-approved template) and can additionally receive a full European MBA diploma from Estonian Busines School.
Find us on social networks:
 Contact Information
Address: 9 Shevchenko Boulevard, Ternopil 46009
Phone: +38 097 093-66-24
Email: tbschool@wunu.edu.ua