Borys Pohrishchuk
Doctor of Economic Sciences, Professor
Contact information:
Теl.:
(0432) 55-49-55, 21-100
Room: 308
Address: 37 Honty st., Vinnytsia
Vinnytsia Education and Research Institute of Economics

       The staff of Vinnytsia Education and Research Institute of Economics of WUNU trains specialists in the following educational programs:
  - Economics;
  - Entrepreneurship, Trade and Stock Exchange;
  - Customs Business;
  - Finance, Banking and Insurance;
  - Accounting and Taxation;
  - Management of Health Care Institutions;
  - Economics and Business Management;
  - Law;
  - Law Enforcement;
  - Public Administration and Management.
  After graduating from Vinnytsia Education and Research Institute of Economics, graduates can hold the following positions: CEO (manager, director) of businesses of various forms of ownership, state and municipal institutions and organizations; manager of associations of enterprises, institutions, organizations and their divisions; president of the company, Chairman of the Supervisory Board; manager of a banking institution; administrative manager; head of development projects and programs; enterprise management consultant; manager for supply, sales, public relations; manager of health care facilities; medical director; human resources manager; commercial manager; consultant on business and management, market research, social and corporate responsibility; head of the personnel department; assistant manager, deputy director; specialist in strategic planning; legislator, civil servant, head (manager) of local state administrations and their structural subdivisions, local self-government bodies (including united territorial communities); councilor, consultant, secretary of local councils; specialist of executive bodies of local councils; operational officer; creative director; director of economics; head of a small enterprise in industry, construction, wholesale and retail trade, tourism, hotel and restaurant industry, transport and communications, commercial, consumer services, etc .; specialist in the fields of civil service, audit, labor and employment, marketing, business efficiency, rationalization of production and intellectual property; chief accountant, accountant, auditor, taxpayer; financier, customs officer, banker; economist in logistics, analysis of economic activity, international trade, planning, financial work, sales, pricing; analyst in investment, lending, financial analyst; economic adviser, consultant on economic issues; head of logistics departments of commercial organizations; official in the departments of public authorities, customs service; head of sales department; brand manager, product manager, marketing and advertising manager; marketing analyst, internet marketer; copywriter; SEO-manager, SMM-manager, PR-manager; head (chief) of structural units of the organization (plant, department, shop, station, department); lawyer, legal adviser in state central and local authorities and self-government; lawyer, notary; international analyst; a spokesman for the foreign ministries and diplomatic missions; expert consultant on legal aspects of socio-political issues; adviser.
The graduates can work in: system of public administration bodies (Ministry of Finance of Ukraine, Ministry of Social Policy of Ukraine, Ministry of Economic Development, Trade and Agriculture of Ukraine, State Tax Service of Ukraine, State Customs Service of Ukraine, National Bank of Ukraine, State Treasury Service of Ukraine, Financial Control Office of Ukraine, Accounting Chamber Ukraine, the National Commission on Securities and Stock Market, the National Commission for State Regulation of Financial Services Markets); united territorial communities; national and international companies engaged in foreign economic activity; financial, insurance trust and trading companies; banks; credit unions; pawnshops; investment funds and companies; independent expert organizations (audit firms, institute of economic expertise); customs brokerage firms; businesses (in industry, trade, construction, hotel and tourism business, housing and communal services, consumer services, catering, transport, information and consulting services); in prosecutor's office; National Police; security services; Military Law Enforcement Service in the Armed Forces of Ukraine; State Border Protection; income and fees bodies; penitentiary bodies; state financial control bodies; National Anti-Corruption Bureau of Ukraine; other bodies performing law enforcement or law enforcement functions; can successfully work as a diplomatic representative, ambassador, in special missions, missions of Ukraine in international organizations; specialist of consular offices of Ukraine; to continue scientific and teaching career in higher education institutions, research and expert-analytical institutions.
 Vinnytsia Education and Research Institute of Economics actively cooperates with the following institutions and organizations: Vinnytsia City Council, Vinnytsia Regional State Administration, Department of Finance of Vinnytsia Regional State Administration, Department of Agro-Industrial Development, Ecology and Natural Resources of Vinnytsia Regional State Administration, Regional Center for Investment and Development, Lityn City Council, "Prod-Mova" LLC, "MK-Energo" LLC, "Vintor" LLC, PE "Khlibna Mova", LLC "Mova LTD", LLC "Egasko-LTD", a branch of JSC "Ukreximbank" in Vinnytsia, SE "Vinnytsiahlib", PJSC "Concern Khlibprom", PJSC "Vinnytsia Plant "Budmash", LLC "Vinnytsia Plant "Pneumatics", LLC "Vinnytsia Combinat Khliboproduktiv No.2", LLC "VTN", LLC "Eco-Sphere", LLC "Liqueur Product", LLC "Sardoniks B", LLC "VF "Partner -intermediary", LLC "Axioma-Audit", LLC "Vinnytsiazernoservice", LLC "Global Wood", LLC "Municipal Consulting Center", LLC "Nord-Trade", Farm "Ukraine", LLC "Vinnex", Vinnytsia Confectionery "Roshen", "Obriy" LLC, "SHK VPG" LLC, "AGRO-ETALON" LLC, "Odessssprodkompleks" LLC, "Master: Stream" LLC, "Soft Generation" LLC, "Medok Ukraine" LLC, Vinnytsia City Court of Vinnytsia Region, Vinnytsia District Notary District, and others, where students have the opportunity to gain practical experience, participate in internships, to gain employment.
 Vinnytsia Education and Research Institute of Economics implements international cooperation with foreign partners: Wroclaw University of Economics (Poland); University of Łódz (Poland); Poznan University of Economics and Business (Poland); Mykolas Rameris University (Vilnius, Lithuania); INHOLLAND University of Applied Sciences (the Netherlands); ARTIFEX University (Bucharest, Romania); University of National and World Economy (Sofia, Bulgaria); Nord University (Bodø, Norway) to implement the Public Sector Economy programme under the Erasmus+ programme. The Institute has created favorable conditions for students to study foreign languages.
 Science and research at Vinnytsia Education and Research Institute of Economics. The Departments of the Institute carry out research at the request of public institutions, private enterprises and local governments. Areas of research include transformation processes in the economy of Ukraine, problems of financial and credit system development, entrepreneurship development, etc. Every year 2-3 international and all-Ukrainian scientific conferences are held at the Institute. Students are alos involved in scientific research and later can continue their scientific  career in postgraduate and doctoral studies at West Ukrainian National University.
 Student life at Vinnytsia Education and Research Institute of Economics. For many years, creative groups, sports sections, school of leadership, courses on studying of foreign languages function at the Institute. The students organize thematic evenings (watching movies, holding various games, broadcasting sports matches, organizing active recreation). The institute conducts interesting quests, flash mobs, organizes and prepares students for festivals and competitions in the region, where they win prizes. Vinnytsia Education and Research Institute of Economics devotes significant attention to educational, social, sports and cultural-mass work, which is designed to ensure the unity of students as one large and friendly university family.
VERIE WUNU Leadership School operates at Vinnytsia Education and Research Institute of Economics. School specialists contribute to the study of leadership values, the development of leadership qualities, the study of the phenomenon of leadership and its impact on management processes.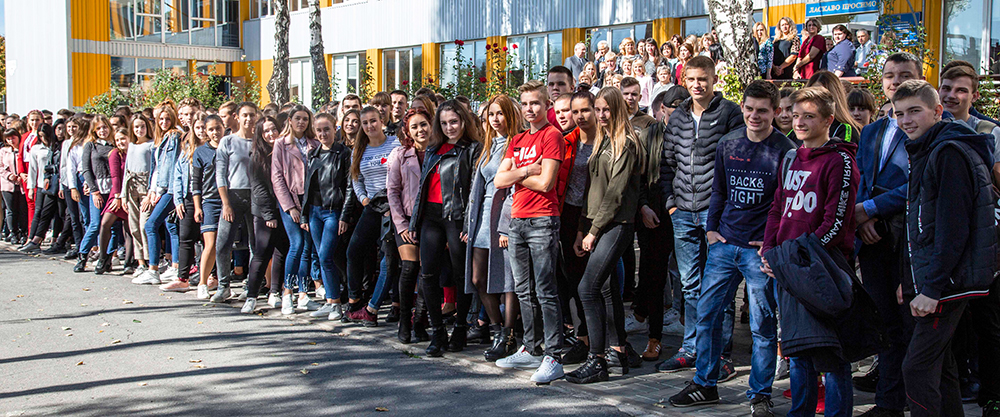 If you have any questions аbout:
admission +380672741975, Nataliia Vasazhenko; +380678896090, Iryna Martusenko
moving into a dormitory +380687042832, Anzhela Dmytruk
organization of the educational process +380672741975, Nataliia Vasazhenko; +380678896090, Iryna Martusenko; +380972759577, Svitlana Boiko
submission of certificates, applications, etc. +380687042832, Anzhela Dmytruk; +380972759577, Svitlana Boiko; +380432554955, Yuliia Shendryk
international student mobility +380678896090, Iryna Martusenko
cooperation with scientists +380432554955, Viktoriia Melnyk
Find us on social networks:
Our contact information:
Address:
 37 Honty street
, Vinnytsia