EU Information Center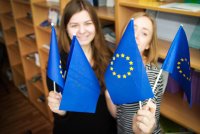 The EU Information Center of West Ukrainian National University (WUNU) has been operating since October 2007.
The purpose of the WUNU EU IC is to disseminate information about the European Union, its policies, main activities, projects and programmes among students and faculty of the university.
The information fund of the center is replenished by systematic receipt of printed and electronic publications from EU institutions and agencies. The collection of information on the latest events and current EU programmes is provided by the staff of the center by monitoring the official sites on EU issues.
The information is available by anyone interested.
Address: 11a Lvivska st. (WUNU Building 11, 2nd floor)
Еmail: presa@wunu.edu.ua
Phone: 8 (0352) 47-50-63