»

News

» International internship of WUNU students at the Young Diplomat School in The Hague
International internship of WUNU students at the Young Diplomat School in The Hague
Дата: 14-09-2023, 11:10 | Автор: Відділ інформації та зв'язків з громадськістю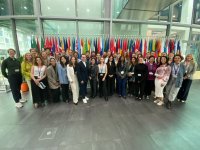 Iryna Kapalkina, Yevheniia Kapalkina and Yevhen Ismail, students of the Negotiation Psychology and Mediation programme at the Education and Research Institute of Communications of WUNU, gained incredible experience and a lot of practical skills during their international internship at the Young Diplomat School in The Hague (Netherlands).
During August 2023, the school participants had the opportunity to try their hand at international negotiation competitions, conferences, workshops, visit the International Court of Justice at the Peace Palace, the International Criminal Court and embassies in The Hague, expand their international network through the Young Diplomat community during networking sessions, and generally practice their skills in diplomatic simulations and other practical tasks.
How do you turn a discussion about inclusion, diversity and equality into a win-win situation? What can be done to facilitate this change? What are the current challenges in international policy on diversity and inclusion? These are the main issues that were discussed during this year's Young Diplomat School.
In general, students from around the world had to compete hard to get an internship. All applicants, more than 150 of them, prepared presentations highlighting projects to implement the experience gained in their home countries and sent their resumes.
This year, students from Ukraine, Japan, Switzerland, France, Austria, Germany, the Netherlands, Romania, the United States, Suriname (South America), Mexico, Yemen, Belgium, and Poland took part in the School of Young Diplomats.
The students of the Education and Research Institute of Communications of WUNU note the very high level of organization of the school, the profound experience gained in diplomatic negotiations, extremely interesting tasks and simulations, a highly intellectual international student environment and the incredible beauty of the Netherlands.
We are extremely pleased that our students got the opportunity to participate in the Young Diplomat School this year.