»

News

» Studying under the Ukrainian-Polish programme
Studying under the Ukrainian-Polish programme
Дата: 11-09-2023, 15:54 | Автор: Відділ інформації та зв'язків з громадськістю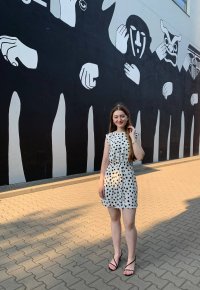 Life always gives us opportunities that often change us. You just have to look around and dare to try something new.
Liubov Yurchak, a fourth-year student majoring in Business Communications and Translation at the Department of Foreign Languages and ICT of B.D. Havrylyshyn Education and Research Institute of International Relations, studied abroad under the Ukrainian-Polish programme.
"In February, I started a semester-long study at the Poznan University of Economics and Business, where I chose all the disciplines myself. The teachers explained the material in an interesting way, opening up new worlds through interactive lectures and practical classes.
Living in the dormitory was also an unforgettable part of this trip. Here I met other students from different countries - from Japan, Georgia, Turkey, Poland, Portugal, and the UK. Almost a hundred unique and wonderful people from 16 different countries. Our community has become a small reflection of the diversity of cultures and traditions. And common hobbies and studies laid the foundation for communication and connections.
My heart is filled with joy from the experiences I had thanks to this incredible opportunity. There, among the ancient streets and historic buildings, I could improve not only my English, but also master Polish, representing Ukraine at the international level.
Mobility programs are not only about studying abroad, they are a kind of journey into the world of knowledge and discovery, cultural exchange, and getting to know other people, languages, and perspectives. Daily communication in a different language environment is the best exercise for language and cultural expansion.
This experience is a great chance to develop and improve all my soft and hard skills and make me more adaptable and culturally aware. Abroad, I have found new friends, learned other traditions and customs, and traveled.
I am grateful to the team of West Ukrainian National University for this opportunity.
Following this path, I am opening up new perspectives and becoming a better version of myself."