»

News

» EYFON International Youth Forum
EYFON International Youth Forum
Дата: 5-07-2023, 10:55 | Автор: Відділ інформації та зв'язків з громадськістю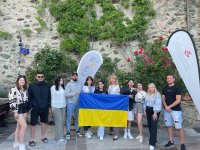 A team of students from West Ukrainian National University together with Olha Tsaryk, Professor of the Department of Foreign Languages and Information and Communication Technologies, took part in the international youth forum EYFON (Neumarkt, Austria) for the fifth time. It was held from June 26 to June 30, 2023, and was dedicated to the topic "Peace in Europe and the World, legislation (EU, UN), intercultural training".
Our students were part of the event along with 35 young Europeans from Albania, Armenia, Georgia, Greece, Hungary, Serbia, and Turkey. During the forum, various events were held to discuss relevant topics.
One of the blocks of the forum "Between media coverage and propaganda: Information and war. Historical and present perspectives" was devoted to media education and propaganda, analyzing information about the war from historical and contemporary perspectives. The Erasmus+ and mobility programmes were also discussed, as well as the "Goals of Europe 2050 - European Future Culture" as part of Castle Talk.
In addition, much attention was paid to intercultural training, which included cross-cultural training and an intercultural evening where students from West Ukrainian National University presented the culture of Ukraine.
Our students Olena Paranych, Yelyzaveta Povoroznyk, Valentyna Kaftan, Sofia Ostroverkhova, and Viktoria Dovbenko actively participated in the discussions, exchanging views and experiences with other participants from different countries. This forum provided them with a great opportunity to expand their knowledge, deepen their understanding of international relations, and find new friends and partners.
We are grateful to our students for representing WUNU at this international forum. Such events contribute to their personal and professional development, as well as facilitate the establishment of international relations and cooperation.