»

News

» WUNU student wins an internship at a Polish law firm
WUNU student wins an internship at a Polish law firm
Дата: 31-07-2023, 17:45 | Автор: Відділ інформації та зв'язків з громадськістю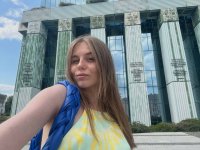 Kateryna Hulyk, a student of the Law Faculty of West Ukrainian National University and a graduate of the School of Polish and European Law, has successfully passed her exams and won an internship at a Polish law firm.
Speaking about her studies, Kateryna said: "I have been acquiring practical skills in family and inheritance law under the guidance of attorney Pawła Stolarka. In fact, it is a very cool opportunity to apply theoretical knowledge in practice. Writing procedural documents: applications, lawsuits, I was able to compare the substantive and procedural legislation of Ukraine and Poland.
I participated in appeals, court hearings on the division of property in divorce cases, and attempted murder cases, where lawyers act as defense counsel. In addition to the practical part, I had the opportunity to learn from the internship organizer, Dr. Monika Strouss-Volos. She taught me how to write procedural documents and introduced me to the bill of exchange, which is popular in Europe.
During my studies, I also got acquainted with the culture of the Republic of Poland and communicated with Judge Adam Redzik."