»

News

» WUNU ranked 21st in the academic rating "Top 200 Ukraine 2023"
WUNU ranked 21st in the academic rating "Top 200 Ukraine 2023"
Дата: 12-06-2023, 18:00 | Автор: Відділ інформації та зв'язків з громадськістю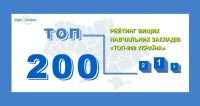 The Center for International Projects "Euroeducation" in partnership with the international group of experts IREG Observatory on Academic Ranking and Excellence presented the 17th academic ranking of Ukrainian universities "Top 200 Ukraine 2023".
This year, West Ukrainian National University was ranked 21st among 200 universities in our country, up 9 positions compared to the data for 2022.
When compiling the ranking, experts took into account current trends in higher education, which continues to undergo profound changes due to the impact of the COVID-2019 pandemic and Russia's full-scale military invasion of Ukraine.
The basic principles for determining the Top 200 Ukraine 2023 rankings include ensuring openness, transparency, objectivity and independence of university rankings, taking into account the comprehensiveness and diversity of university activities, and prioritizing European integration processes.
The rating is available here: http://www.euroosvita.net/index.php/?category=1&id=7923 
We congratulate the university community on their significant accomplishment and wish them interesting developments and new achievements!