»

News

» WUNU student took part in the Ukrainian-Polish programme
WUNU student took part in the Ukrainian-Polish programme
Дата: 30-05-2023, 11:30 | Автор: Відділ інформації та зв'язків з громадськістю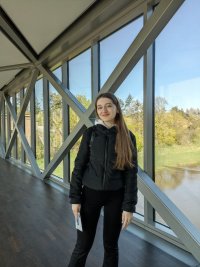 Liubov Yurchak, a 3rd year student majoring in Business Communications and Translation at B.D. Havrylyshyn Education and Research Institute of International Relations, took part in the Ukrainian-Polish programme.
Liubov shares her impressions of her studies: "In February, I started a semester-long study at Poznan University of Economics and Business, where I chose all the disciplines myself. Lectures and practical classes are interesting and interactive, and daily communication in a foreign language environment allows you to practice your language skills.
It's a great experience that allows you to improve all your hard and soft skills, develop comprehensively, meet new people from different countries, travel and explore the country.
I am grateful to the staff of West Ukrainian National University for this opportunity, as it is a new step towards improvement for me."