»

News

» Week of international mobility under the Erasmus+ programme
Week of international mobility under the Erasmus+ programme
Дата: 29-05-2023, 16:52 | Автор: Відділ інформації та зв'язків з громадськістю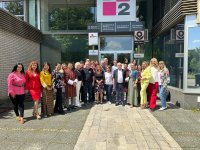 Researchers of West Ukrainian National University took part in the International Mobility Week organized under the Erasmus+ programme in Ljubljana, Slovenia.
The participants included scientists from 13 partner organizations in 9 countries: Ukraine, Albania, Bhutan (Tibet), United Arab Emirates, Serbia, Croatia, Romania, Slovenia, Montenegro, and the United Arab Emirates.
West Ukrainian National University was represented by prof. Iryna Zvarych (Head of the Department of International Economics), assoc. prof. Maryna Nahara (Education and Research Institute of International Relations), assoc. prof. Olena Stefanyshyn (Faculty of Social Sciences and Humanities), and assoc. prof. Volodymyr Mazur (ERI of International Relations).
Representatives of each HEI-partner prepared a presentation about their university. Marina Nahara focused attention on the international activities of WUNU. Olena Stefanyshyn and Volodymyr Mazur presented the report "Basics of emotional intelligence and neurolinguistic psychology as a tool."On Thursday, May 25, the 5th Eastern European Conference on Management and Economics (EECME 2023) was held in a mixed mode in Ljubljana, Slovenia. EECME 2023 is a peer-reviewed international scientific event dedicated to research achievements and applications in future management challenges. In particular, professors from Ukraine, Romania, Albania, Montenegro, and Slovenia gave lectures in classroom mode. The head of the Department of International Economics Iryna Zvarych presented the report "Global trends of the modern inclusive economy".
Certificates of participation in the Erasmus+ programme and International Staff Week were also handed out. We wish WUNU scientists good luck and inexhaustible creative forces in their further scientific activities!